Overview
Drawing creation
High quality output at 1200 x 1200 dpi
Capable of two separate network environments
Drawing Output
High speed output of A1 sized paper at 9.7 sheets/minute
A0 sized paper can also be output
Digitization
Full colour scanning of A0 sized paper
Drawings can be both saved and printed simultaneously with a single scanning operation
Accelerate your business
This wide-format multifunction device acts as a hub
Just right to handle those workplace printing needs
While business collaborations with external partners are increasing, on-site requirements in the manufacturing, construction, and engineering industries are becoming more advanced and diverse. Industries increasing require the prevention of information leaks and the promotion of standardization.

Fuji Xerox responds to these requirements inconsideration of security, user friendliness, and compatibility with systems, etc. in addition to image quality and speed.

The result is the new wide-format multifunction device, the DocuWide 6057 / 3037, a powerful device that supports your business.
Drawing creation
Beautiful and fast.
It is a network plotter that supports your design work

– High quality output at 1200 x 1200 dpi
– Capable of two separate network environments

[Secondary Ethernet]
The machine comes standard with two separate Ethernet connections. Printing can be performed from two completely separate network environments. This means the device can be used from the company LAN as well as via the internet or a WAN.
Drawing Output
It is a Digital copier that includes many convenient functions for outputting drawings

– High speed output of A1 sized paper at 9.7 sheets/minute*1
– A0 sized paper can also be output

Digitization
It is a Network scanner that easily digitizes large size drawings

– Full colour scanning of A0 sized paper*2
– Drawings can be both saved and printed simultaneously with a single scanning operation

[Security]
In addition to user authentication linked printing, which deters printed materials from being left unattended, the device provides a variety of security functions such as password settings for scanning, and hard disk encryption and data overwriting.

*1Based on A1 size LEF
   DocuWide 6057: 9.7 sheets/minute
   DocuWide 3037: 7.0 sheets/minute
*2Full colour scanning is optional with the DocuWide 3037 MF model.
Drawing creation: Faster and higher image quality

HIGH RESOLUTION OF 1200 DPI CLEARLY REPRODUCES FINE LINES
The exposure unit is equipped with an LED print head consisting of a drive IC converted into a single chip through highly precise and multi-functional light correction technology. Fine lines and small text often seen in drawings can be accurately reproduced.
EA-ECO LGK TONER SUITABLE FOR PRINTING DRAWINGS
Low-gloss EA-Eco LGK toner is adopted for this device. Subdued monochrome printing that is suitable for drawings and easy on the eyes can be achieved. Diagonal lines, curves, and thin straight lines that are essential for drawings are also sharply reproduced.
IMPROVES THE PRODUCTIVITY OF DESIGN WORK
Excellent continuous output speed is realised. Printing of drawings is smooth, even when there are multiple prints to execute.

[ DocuWide 6057 ]
A0: 5.0 sheets/minute
A1 LEF: 9.7 sheets/minute

[ DocuWide 3037 ]
A0: 3.2 sheets/minute
A1 LEF: 7.0 sheets/minute
GIGABIT ETHERNET SUPPORTED
This function is highly effective for the high speed transfer of large amounts of data, such as large sized drawings.

OFFERING VARIOUS PRINTER DRIVERS
Various drivers such as the standard driver, HDI driver for AutoCAD®, and a PostScript® driver*1 are provided to suit the user's output environment. Designs, illustrations, and block copies, etc. created on a Mac can also be accurately produced with a combination of PostScript® Driver and PPD files for Mac.

EASY DATA OUTPUT EVEN IN LARGE VOLUME
With BT-PlotAssistant*2 , multiple files of different formats can be outputted all together by drag and drop operations. The transmission status of each file can be checked in BT-PlotAssistant. Complicated settings made when printing can also be saved with a name. This is useful when repeatedly performing the same printing.
Functions of BT-PlotAssistant
*1 Optional PS/PDF KIT is required.
*2 Software sold separately.
Drawing Output: A myriad of copy functions
A WIDE RANGE OF FUNCTIONS ASSIST OUTPUT AND DISTRIBUTION OF DRAWINGS
– "Sample Copy" Function*1
The "sample copy" function can be used to check how your copy will turn out.

– Long Paper Copying
Long original materials of up to 15 m*2 long can be copied.

– Stamp/Date Copying*3 *4 
Up to 99 stamp patterns created on a PC can be registered. It eliminates the need to manually stamp drawings during distribution.
– Fine Image Adjustments
Various image processing can be performed according to the original document, such as fine image quality adjustment, photo/blueprint adjustment, density irregularity adjustment, auto exposure, half tone adjustment, and colour-specific density adjustment.*1
– Example copy using the "Uneven-Toned Background" mode*5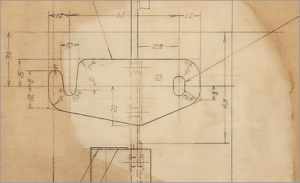 Original document with a comparatively large unevenness indensity
Example copy
*1An optional Color Scan Memory KIT is required for the DocuWide 3037 model.
*2Plain paper
*3The optional Stamp KIT is required.
*4Check the actual stamp on the device.
*5Check the actual copy sample on the device.

Digitization: Smooth full-colour scanning
DIGITIZATION OF DRAWINGS ACCELERATED
The device offers colour scanning of A0 size documents at 600 dpi. It also provides previews of scanned images, which helps to prevent scanning mistakes. Furthermore, the device will reduce your work time since you can scan while the device is printing.*1
View preview
Zoom to display the drawing information
CONVENIENT SCAN FUNCTIONS
– Store to Folder
Documents can be saved to a folder in the device and imported from a PC. By registering the folder in DocuWorks Desk*2 , scanned and saved documents can be checked in form of thumbnails.
– Scan to PC
Scanned documents can be transferred to a PC via a network*3 using the device control panel. TIFF, PDF, JPEG, and DocuWorks document formats are supported.

*1An optional Color Scan Memory KIT is required for full colouring scanning of the DocuWide 3037 model.
*2Software sold separately
*3SMB protocol
Pursuing security without compromising user friendliness
Option