Overview
Advanced print quality, productivity and finishing process give strong support for monochrome POD* business.
* Print On Demand: To print the quantity you need, when you need it.
No.1 market share for 5 consecutive years in mono production products.*1
(IDC, 2012 – 2016, World Wide Monochrome Laser cut sheet products, 91 ppm+)
Outstanding print speed of 136 ppm*2.
High Capacity Feeders and High Capacity Stacker make continuous mass printing possible.
Offering the latest finisher lineup. Cover insertion, three-sided trim, and saddle stitched booklet with square fold supported.
Simple Image Quality Adjustment (SIQA) makes alignment adjustment easy.
Equipped with various copy and scan functions useful for office operation.
Possible to register optimal print settings for each paper type.
*1: Worldwide Hardcopy Peripherals Tracker 2017Q3 Monochrome Laser, A3, Cut sheet, Monochrome Laser 91+ppm, Light Production, Mid Production, Production Share by Company.
*2: For B9136 Copier/Printer with A4 LEF. 125 ppm for B9125 Copier/Printer, 110 ppm for B9110 Copier/Printer, and 100 ppm for B9100 Copier/Printer.
Productivity & Stability
TECHNOLOGIES SUPPORTING HIGH-SPEED PRINTING
High-speed continuous printing of 136 ppm*1 has been realised for both 1-sided and 2-sided printing.
Reliable fusing on paper transported in high-speed is now possible with EA-Eco LGK*2 toner that allows fusing at lower temperature than existing models
and a roll type fusing unit providing constant heat supply.
*1: For B9136 Copier/Printer with A4 LEF on continuous printing of the same original document.
*2: EA: Emulsion Aggregation. LGK: Low Gloss Kuro (Black).
STABLE PAPER TRANSPORT
Wide turning angles in paper path provide stable and speedy paper transport. This device has a good resistance against paper jam by adopting vertical paper inversion mechanism for 2 sided printing to reduce curves in the paper path.
In addition, there is less impact caused by heat generated by fused paper on the transfer mechanism and it hardly causes troubles with paper path and image quality.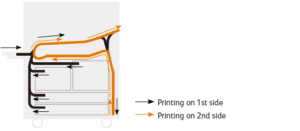 CONTINUOUS MASS PRINTING ENABLED
You can enjoy seamless operation at continuous mass printing as cartridge replacement and paper refill can be done while printing is in progress. A
single high capacity toner cartridge can yield approximately 71500 pages* for printing.
* A4 LEF size, area coverage 6% at continuous printing. Reference of Fuji Xerox test criteria.
Quality
HIGH RESOLUTION PRINTING OF 2400 x 2400 DPI
The heart of the printer, ROS*1, uses VCSEL*2 as a light source.
It enables printing at 2400 x 2400 dpi high resolution by drawing images simultaneously with 32 laser beams.

*1: Raster Output Scanner
*2: Vertical Cavity Surface Emitting Laser
EA-ECO LGK* TONER FOR HIGH IMAGE QUALITY

EA-Eco LGK toner with extremely small particle size of 6.5 microns allows reproduction of photograph gradation in a smooth and beautiful way, density uniformity in figures, and small text clearly. It also produces easy-to-read printed text with less glare which is also easy on your eyes.

* EA: Emulsion Aggregation. LGK: Low Gloss Kuro (Black).

TRANSFER UNIT WITH HIGH IMAGE QUALITY DESIGN

The design of the driver mechanism of the transfer belt and the introduction of a large diameter driving/transfer rolls ensure stability in paper transport speed in the transfer process*. This provides a consistent paper transport speed for paper ranging from light to stiff paper. Also, optimal toner can be transferred on paper from lightweight to heavyweight at all time with a mechanism automatically adjusting contact pressure between the transfer belt and photoreceptor drum, giving high image quality and sharper text.

* The process that transfers toner on paper from the photoreceptor to form images.

ULTRA HIGH PRECISION REGISTRATION – IRECT*

This digital image registration control technology "IReCT*" precisely measures the position of sheets running in high-speed and realises real time correction to misregistration of printing images and distortion on each sheet with ultra high precision registration, which cannot be achieved by mechanical correction technology alone.

* Image Registration Control Technology
MAINTAIN PRINTING QUALITY WITH EASY ADJUSTMENT

Simple Image Quality Adjustment (SIQA), which realises simple alignment adjustments has been installed. For optimal adjustment, you can just print and scan the calibration chart. It ensures consistent printing quality with properly adjusted print position, perpendicularity, skew and magnification on both the front and back sides.

MORE SCREEN CHOICES

Various screen settings*1 including FM screen that suppresses moire*2 are now available.
*1: PCL Driver: 6 screens, PostScript® Driver: 12 screens, Print Server driver: 10 screens.
*2: A phenomenon in which streaks not existing on the original appear when repeatedly printing patterns at regular intervals.
IMAGE ENHANCEMENT IN A MORE BEAUTIFUL WAY

Higher image quality has been implemented with "Edge Enhancement" that fixes jaggedness on the edge of thin line and text outline and "Adjust Invert Text/Line Weight" that fixes thickened/blurred text.

Adjust Invert Text/Line Weight is ON (8 pt character)
Note: Default setting: OFF
NO MORE MISSING, DUPLICATED, AND MIXED BLANK PAGES

The multifeed detection sensor monitors the paper flow to prevent the feeding of multiple sheets of paper. If a multifeed is detected, printing is interrupted to prevent blank page insertion.
Monitors paper thickness
Note: The multifeed detection feature is not available on B9100 Copier/Printer.
Versatility
MEDIA HANDLING CAPABILITIES

This device can handle a wide range of paper weights from lightweight paper of 52 gsm to heavyweight paper of 350 gsm. The upper limit of heavyweight paper has been extended thanks to the review of the paper path design, and employing the control mechanism that automatically switches fusing roll pressure between two levels. Not only that, it allows fine control to extend the support range of coated paper and specialty paper*1. Paper sizes ranging from A6 to 330.2 x 488 mm are available. Full-bleed printing on SRA3 (320 x 450 mm) is also possible and it is useful to create brochures or leaflets that need to have bleed. Further, banner printing on long paper of up to 660.4 mm is now available.*2 This is useful to create booklet covers that require larger paper.
*1: Please contact our sales representative for inquiries about capability with specialty paper.
*2: Please contact our sales representative for paper feeder or output module that is required for Banner Printing on long paper.
Note: Performance is not guaranteed for all paper media. Contact our sales representative for available paper types.
PRINTING WITH RIGHT SETTINGS FOR EACH MEDIA TYPE

A maximum of 40 paper types can be registered with "Custom Paper Setting". It allows configuration settings such as alignment, fold position, fusing temperature according to paper to be used and produce printout with high image quality.
FLEXIBLE FEEDING AND FINISHING OPTIONS
These options make it possible to build flexible printing systems suited to every printing operation.

Feeding options
Up to a total of 8050 sheets can be loaded. You can enjoy long-time seamless operation at continuous mass printing with less paper refill frequency.
1. High Capacity Feeder C1-D1*1 / High Capacity Feeder C1-D2*2
  – Maximum A4 x 2 trays
  – 2000 sheets x 2 trays
2. High Capacity Feeder B1-S
  – Maximum A3, 330.2 x 488 mm
  – 2000 sheets x 1 tray
  – Air assist
3. High Capacity Feeder C4-DS
  – Maximum A3, 330.2 x 488 mm
  – 2000 sheets x 2 trays
  – Air assist

*1: For B9125 / B9110 / B9100 Copier/Printer
*2: For B9136 Copier/Printer
Finishing options
Expanded applications with combined options.
1. Interface Decurler Module D1*1
  – Real-time paper curl correction
2. Inserter D1
  – Cover/sheet insertion
3. High Capacity Stacker A1*2
  – 5000-sheet offset-stacking for mass printing
  – Stacker cart
4. Crease/Two-sided Trimmer D2*2
  – Two-sided trim
  – Crease
5. Folder Unit CD2
  – Z fold half sheet/Tri-fold
6. Finisher D6
  – 100-sheet stapling with auto staple cutting
  – 2-hole/4-hole punch*3, 2-hole/3-hole punch*3
7. Finisher D6 with Booklet Maker
  – 100-sheet stapling with auto staple cutting
  – 2-hole/4-hole punch*3, 2-hole/3-hole punch*3
  – Saddle stitch/Single fold
8. SquareFold Trimmer D1*2*4
  – Face trim
  – Square fold
9. Simple Catch Tray*5
10. Offset Catch Tray*5

*1: Necessary for connecting High Capacity Stacker A1.
*2: Not available on B9100 Copier/Printer.
*3: Optional.
*4: Available only with Finisher D6 with Booklet Maker.
*5: Optional products for B9100 Copier/Printer.
A variety of finishing features
Continuous mass printing enabled
High Capacity Stacker A1 can accommodate up to 5000 sheets. The printed sheets are directly delivered to the stacker cart (carriage). It is useful when carrying large volumes of printouts to off-line post-processing devices.
Image Processing
PRINT SERVER WITH HIGH IMAGE QUALITY AND HIGH-SPEED
The GX Print Server with 64-bit architecture delivers high speed RIP and high image quality, achieved through the latest hardware and image processing technologies cultivated in the development of colour production printers.
IMAGE DATA PROCESSING MAXIMISING PRINT ENGINE PERFORMANCE
High quality image data can be generated with RIP processing of 600 x 600 dpi and 8 bit (256 gradation levels) on the Print Server.
In addition, high resolution and smooth screen image of 2400 x 2400 dpi can be generated on the device with Fuji Xerox unique HQ digital screen technology (MACS*) employed. These data processing technologies have realised high image quality brought from the maximisation of the print engine performance.

* Micro Accurate Control Screen.
SUPPORTING ADOBE(R) PDF PRINT ENGINE* PERFECT FOR PDF OUTPUT

Adobe(R) PDF Print Engine directly rips PDF data. Even a PDF file with transparency or layers can be processed as it is and faster and high quality output is possible. Blur, drop shadow and glow effect can be used with ease.

Note: Adobe(R) PDF Print Engine is available for jobs in PDF and JDF formats.

PRINT SERVER EQUIPPED WITH HIGH-SPEED TECHNOLOGIES

Faster processing with less data volume

Fuji Xerox's unique intermediate data format streamlines RIP processing with high image quality. In the conventional RIP processing, calculation takes a long time due to large data volume. However, this new RIP processing automatically identifies objects including text and image and processes them in the format in which data volume is less. It greatly reduces the processing time without degrading image quality.

High-speed serial transmission
The print server sends huge raster data to the printer with a wideband transmission of 4.25 Gbps. It ensures high reliability by automatically detecting and correcting errors.

ON-DEMAND PRINT

This feature allows you to print documents in an easy way when necessary as print information including paper type, 1-sided/2-sided, stapling is saved along with print data.

FLEXIBLY MEETING VARIOUS PREPRESS NEEDS

FreeFlow Makeready®, software which streamlines prepress operations allows you to construct a digital printing system to handle both digital and paper document entries. This system makes it possible to use a wide range of editing functions such as imposition and labeling while checking page layout.

Note: Optional software FreeFlow Makeready® is required.

HIGH-SPEED, LARGE VOLUME PRINTING OF VARIABLE DATA

High-speed, large volume printing of personally customised documents: direct mails, bills, usage details statements, etc. is enabled. It meets the business needs of One to One marketing which captures diversifying customers' individual needs. With industry standard PPML*1, PDF/VT-1, and PDF/VT-2, languages for variable data printing and Fuji Xerox unique language VIPP*2 are supported to establish extended variable printing systems.

*1: PPML: Personalized Print Markup Language
*2: VIPP: Variable Information Production Printware
Optional software FreeFlow® VI Compose is required.
BUILDING JDF WORKFLOW

JDF*1, which is the standard in the printing industry is supported. Linking with integrated workflow systems for printing operation*2, you can build a hybrid workflow with offset printing device and digital printer.

*1: JDF: Job Definition Format
*2: Linked with "FUJIFILM WORKFLOW XMF" of Fujifilm Corporation and "EQUIOS" and "Trueflow SE" of SCREEN Graphic Solutions Co., Ltd.

STREAMLINED PRINT WORKFLOW

The efficiency of printing operation can be improved by grouping jobs having the same properties. It brings improved productivity and shorter turnaround with short-run printing of a wide variety of contents.
Note: Optional software FreeFlow® Core is required.
STREAMLINED BOOKLET MAKING LINKING WITH OFF-LINE POST-PROCESSOR

The efficiency of booklet making operation can be improved by using barcodes for post-processor.
Note: Optional software FreeFlow® Core is required.
Office
DUPLEX AUTOMATIC DOCUMENT FEEDER
It scans the front and back sides of the original simultaneously. Scan functions make it possible to read documents in high-speed of 135 ppm for 1 sided and 270 ppm* for 2 sided.
* Fuji Xerox Standard scan sheet (A4 LEF), 200 dpi, to Folder
SERVER-LESS ON-DEMAND PRINTING
Even if the device you selected for output is occupied, you can print your documents from another available device on the network.
Note: Optional Server-less On-demand print and Embedded IC Card Reader A or Embedded IC Card Reader B are required. Use Multi-model Print Driver 2.
A WIDE VARIETY OF SCAN FUNCTIONS
The following useful scan functions are available.
– Store to USB*1
– Store to Folder*2
– Scan to PC*3
– E-mail
– Job Flow*4
*1: Optional USB Hub and USB Memory Kit are required.
*2: Scanned files are stored to Folders on the device. To store them to PC, use web browsers, Stored File Manager 3 belonging to Network Scanner Utility 3, or TWAIN compliant applications.
*3: Scanned files are sent and stored to PC folders via FTP transfer or SMB.
*4: Scanned files are sent to defined destinations. You need to create a job flow in advance in which distribution destinations are specified.
Security & Management
REMOTE SERVICE

Preventive maintenance

Check-up and parts replacement can be performed at the perfect time by analysing the system log, and it prevents troubles.

Swift trouble resolution

If a problem occurs, Fuji Xerox service engineer will remotely analyse the system log and provide technical supports to solve the problem in a short time period. In addition, Fuji Xerox operator assists the troubled customer by sharing the print server screen remotely to solve the problem.

Note: You need to apply for Remote Service (free) to use it.

SECURITY SUPPORT FOR PRINT DATA

Important print data provided by customers can be protected from data breaches by completely erasing*1 deleted data remaining in the print server so that the data cannot be recovered even with data recovery software. Besides, data in the printer can be encrypted*1 or completely deleted*2 to prevent unauthorised access.

*1: Default setting: OFF
*2: Optional.

AUTHENTICATION

Authentication features prevent unauthorised use of the device for security. Authentication operations can be performed at the device control panel or with a smart card*. User information can be saved and managed on the device or remote authentication server such as Active Directory®.

* Optional Embedded IC Card Reader A or Embedded IC Card Reader B is required.

SERVER-LESS AUTHENTICATION

When using authentication features without setting up an authentication server, it is troublesome and hard to manage with many devices as user information needs to be registered with each device. The "Server-less Authentication" feature allows authentication operations on any device as devices automatically synchronise user information.

Note: This feature is available when the print server is not connected. Optional.
Copy On Demand
EASY REPRINTING OF COPY DOCUMENTS

This feature stores copy documents in the [Copy & Print Jobs] Folder of the device. You can print them as many times as you wish without scanning documents each time. Besides edit operations such as duplication of document data, change of copy settings, document merge like insertion and re-saving are available.

Note: "Back-Up Tool for restored document" is provided on the Fuji Xerox website.
"Migration Tool for Restored Document" is also available for exporting documents in the boxes of conventional D136 / D125 / D110 / D95 Series to these new models.